English CV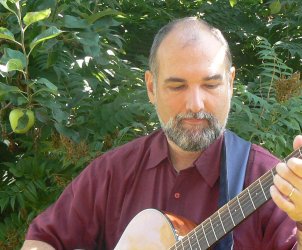 Danish CV here

1958 Born in Nyborg.
1970 Started playing guitar as a Scout.
1973 Several undergroundbands Pax, Sao Paulo, Uropatruljen.
1973 Co-starter of Fajabefa, øvelokale-foreningen i Muzirkus, Nyborg.
1976 -> Music courses at Brandbjerg og Vallekilde Højskole.
Studying guitar with Uffe Steen and Bjarne Roupe.
1983 Graduated teacher from Skårup Statsseminarium.
1983 -> Plays with part-band "3xPoul" wtih Morten Krøgholt, Asbjørn Bech Jessen, Søren Henningsen. 1984 Leads the band "Tove Taktfast og den Dødbløde Trio" with Peter Brusendorf, Anker Mejer and Britta Kristensen.
1984 Composes music to the show "Fjeren og Rosen" and touring with my wife, the writer Josefine Ottesen.
1984 -1996 Musician with the theatergroup "Gadesjakket", Odense.
1986 Coding the Theater-light controlling software "Skygge Danser".
1986 Compses and directs music to several shows with the theatergroup "Fuld Fart Frem".
Amongs "Kommer Desserten", "Aser og Jætter" og "Brænd Borgen".
1989 Daughter Naja and 1991 son Adam.
1994 -1995 Employed as musiklærer at "Højskolen i Svendborg".
1995 Composing music to several video productions at "Mediehuset", Svendborg.
1995-1997 Employed as musicteatcher at the Theatcers school Skårup Statsseminarium.
1997 -> Employed as musicteatcher at Ollerup Efterskole, theatching 9th and 10 grade.
1999 -> Playing with the award-winning Zydeco band "Captain Crawfish and the Jumping Zydeco" - with Ulrich Klostergaard, Sus Klostergaard, Keld Andersen, Jakob Eilsø,and Niels Ryde. Hear some of the music here.
2005 Recording with Christian Søgaards on his CD "A mon Amour"
2006 Producing the CDen "SAND" with own instrumental material together with Christian Søgaard.